Ever notice how a pillow can change the whole look of a room?  You can change pillows with the seasons or even with your mood.  Making a pillow is actually one of the easiest DIY projects you can do.  The fact that you can easily make a pillow in about an hour, makes this a must do.  Which is why this week I am showing you how I took a design inspiration pillow and replicated it.  I'll show you how I learned to install an invisible zipper closure to create a custom pillow. diy custom pillow
A Pillow Project
I don't know about you but when I make something that I want and it turns out well I feel a sense of accomplishment. Such as it was with my recent pillow project.
Design Desires
diy custom pillow
I decided that I wanted some new pillow covers for the Euro pillows on my bed.  Wanting to extend the yellow-gold color of my curtains & artwork, I knew I wanted the pillows to be made from a yellow patterned fabric.
The Inspiration
I like using inspirations to jump start my design projects.  So I found an inspiration pillow and was able to get very close.  Here's the inspiration pillow…
I found some fabric at Joannes awhile back in the clearance section and knew that it was pretty close to what I was looking for.  The pattern was so similar to my inspiration, it almost looks like a reverse or negative of the inspiration fabric.
My Pillows
Now take a look at my pillows.
Pretty close huh?
Since the fabric was a bargain, I was able to purchase enough to make two pillow covers.  I used the same fabric for the front and back of the covers.  It is important to note that if you are using a fabric like this that has a center medallion design, be sure to purchase enough fabric so that you can center the design.
diy custom pillow
I even taught myself
how to insert an invisible zipper
for the pillow closure. Using an invisible zipper gives the pillow a much cleaner look I think. Now that I know how easy it is to do I'll probably be using the invisible zipper a lot more.
Make One!
As I said my fabric was in the clearance Red Tag section, so it's no longer available.  
But guess what?
 I was able to find
this fabric
that is actually even a closer match to the inspiration pillows fabric.  It comes in a wide 54″ and is budget friendly at under $10/yd.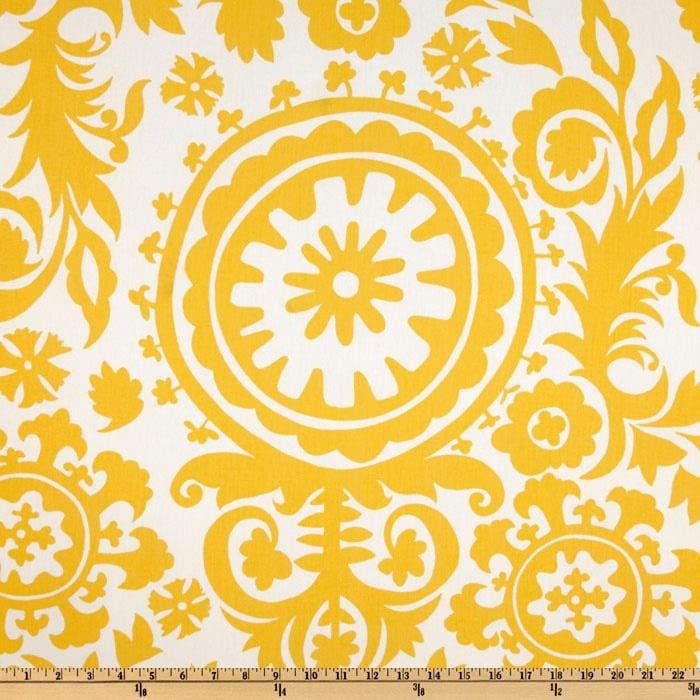 Sometimes all you need is a pillow to change the look of the room.  And since creating a pillow cover is such an easy DIY, you can give your interiors a fresh look in less than an hour.
Do you make your own custom pillows?  Have you tried using an invisible zipper closure? I would love to see what you created.  Please leave a comment below and be sure to share pics of your pillows.
Keep Designing:
SECRET STYLE SOURCES: Stores for Budget Decor [INFOGRAPHIC]