I actually love my Cricut machine! I have since I got my first machine over 10 years ago. Which is why this might seem strange because in this post I will share with you why I sold my Cricut, why I think it's the best decision and why you should too!
I sold my Cricut and you should too!
Like I said I actually LOVE my Cricut. I will never forget my assistant (my day job is a childcare provider) telling me about this new machine that had just come out. She explained how it could all but eliminate us having to hand cut all project supplies at my childcare – and the hand cramps that resulted.
Needless to say, I was intrigued. And it was true! The original Cricut was amazing! It looked super promising for making project prep time quick & easy.
So of course I set out to convince my husband why we should invest in this die-cutting machine (originally cost $149-$299). Because I was convinced this machine was created for child care providers like me.
It was love at first sight!
My husband did get me my first machine and I was right, I lovvved that machine! It was actually fun collecting the different cartridges that allowed the machine to cut shapes, letters, and more.
Then they came out with a new Cricut. This one had even more promise! So you know I had to get it right?
And I loved the new bigger machine even more. It still need the cartridges, but now I was able to cut even bigger images. I used it to decorate just about every wall in the childcare.
I loved it – but here's why I sold my Cricut?
Yes, I loved my Cricut. But then they released the Cricut Explore and I knew I had to upgrade to that model too. Especially because this time cartridges were no longer needed.
Wait! What?
No more cartridges?! They had created an exclusive software program that worked online with Cricut. This eliminated the need (and expense) for having to purchase all those cartridges. YATZY!
This was perfect because I was actually getting tired of searching through the cartridge books to find specific images not to mention storing all the cartridges I had managed to collect.
But then I got smart!
New is BETTER!
I realized that Cricut was releasing new machine models quite regularly, usually with some sort of upgraded feature or two. So what I needed to do was to intentionally plan to get rid of my machine.
So that's exactly what I did!
I sold my current Cricut machine, even though I had only had it for just over a year. And here's the thing, because my machine was fairly new, I was able to sell it for a good amount. Not as much as the new machine, but it was a good down payment on a new machine.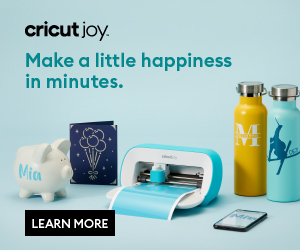 When to sell your Cricut
Then I got really smart! By now I was using my Cricut to create items and sell them online. With all that added use, I realized that if I sold my machine annually I could possibly avoid any mechanical issues that might arise down the road.
Christmas time seemed the best time to sell my nearly new machine each year. Obviously, people would be looking for Christmas gifts and usually looking for a bargain too.
I also realized that if I timed it right, I could sell my machine and be able to take advantage of a Cricut sale at Michael's or Joann's. By the way, this sometimes paid for the new machine in full!
#winning
Keep Designing –
How to Sell Your Cricut
So even though I sort of tricked you at first, by now I'm sure you can see the wisdom of why I sold my Cricut. And maybe you should think about selling yours too. Consider this:
Do you use your Cricut machine a lot – like every day?
Do you use it to create items to sell?
Have you had an older machine for a while and think it might be time to upgrade?
Either way, it might be time to let go & level up!
Here are some tips for selling your Cricut:
Decide when you want to sell your machine – 1 yr, 2 yr, or when a new model is released.
Decide what (if any) accessories you will offer with the machine – handbooks, (new) blade, (new) mat, etc.
List your Cricut on:

Craiglist
Offer Up
Facebook Groups

IMPORTANT – Keep the original box & packaging materials
---
Want to remember this "Why I'm So Excited That I Just Sold My Cricut", to your favorite Pinterest boards or social media channels?